My office server is running Server 2012 Datacenter R2, fully patched. I setup a Storage Pool using 2 Western Digital Red 3 TB drives. Configuration is Mirrored, Thin Provisioned with a 5 TB capacity. Everything is working fine, but recently, when I look at the Storage Pool, it says that it is 99.6% used and only has 25 GB of free space!? Have not changed anything that I can think of.
However, the 2 Volumes in the pool show that they have the following:
Volume D: 1.25 TB Capacity and 816 GB Free
Volume E: 3.75 TB capacity and 2.82 TB Free
I've tried various powershell commands to trim, defrag, slabconsolidate.
I also moved 142 GB of files off the Storage Pool - and the free space remained at 25 GB?!
Nothing helps - and I am not by any means a storage spaces or powershell expert - just trying things that I've discovered in my research.
This screenshot shows what, to me, doesn't make sense. Disks with lots of free space and a storage pool that is almost full!: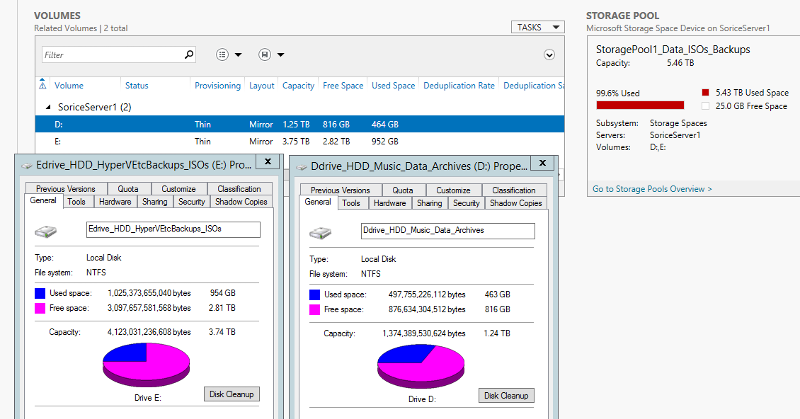 Am I missing some important concept or is my Storage Pool somehow corrupt, etc.? Any ideas on how to repair or make sense of what I'm seeing?