So I am new to Oracle and was trying to create a Database from a custom template. I was able to go through all of the settings, in the Database Configuration Assistant, okay but when it came time to create the database it gave the following error:
ORA-00837: Specified value of MEMORY_TARGET
greater than MEMORY_MAX_TARGET
ORA-01078: failure in processing system parameters
Here is the picture of that error box I received: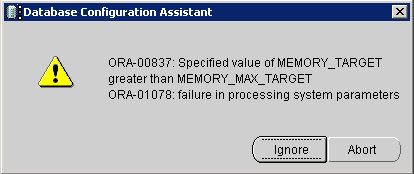 I have tried decreasing the amount of memory used, from 8GB to 4GB, but that didn't change anything. I do realize I should probably keep it around 8 GB but I used 4GB for testing to see if it would work. We are using 16 GB Memory with 100 GB Hard Disk Space. Also instead of installing Oracle to the C:\ directory I installed it to our D:\ directory. Any help on this issue would be great.