Hi All,
I have an old web server we are hoping to migrate off of very soon, but I'm just trying to keep this bucket of bolts running until the client is prepared for the transition (months off).
Recently we've updated some functionality in our application that requires an update to a setting in IIS, but on this production box, I can no longer access the IIS UI. IIS Manager loads just fine, but when i click the server to open the sites, I'm getting "Error trying to connect. Do you want to re type your credentials and try again?" and then details about a file that could not be loaded. I've included a screenshot of the full error.
So my question is, with the web application itself still running fine, but IIS Manager UI inaccessible, what would be my options for getting my settings changed. I'm looking at ASP activity and request timeout and maxfilesize values.
Would reinstalling IIS likely resolve this missing file issue? I think there are command lines to make these changes, aren't there? I can't seem to get a usable syntax on the web.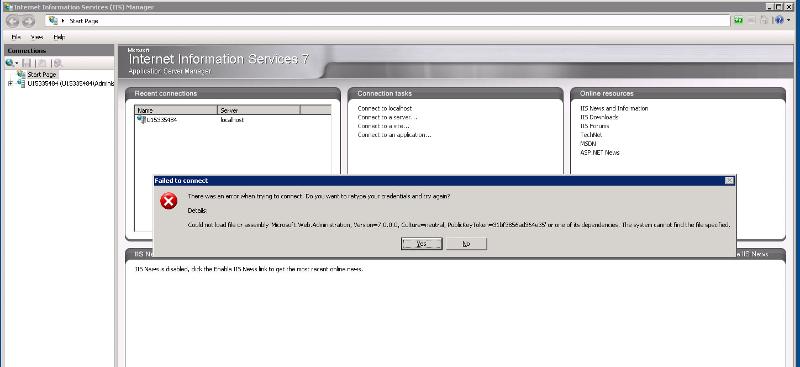 Any suggestions would be most welcome!
Thank you
Bill