MQ: Where to draw line on permitting person to speak freely?
- or -
should it not be constrained at all?
____________
_[ excerpts of optional resources ]
______________
Which countries still outlaw apostasy and blasphemy?
http://www.pewresearch.org/fact-tank/2014/05/28/which-countries-still-outlaw-apostasy-and-blasphemy/
- By Angelina Theodorou - May 28, 2014
A new Pew Research analysis finds that as of 2012, nearly a quarter of the world's countries and territories (22%) had anti-blasphemy laws or policies, and one-in-ten (11%) had laws or policies penalizing apostasy. The legal punishments for such transgressions vary from fines to death.
In the Americas, 11 out of 35 countries (31%) had blasphemy laws, including the Bahamas, where the publication or sale of blasphemous material can be punished with up to two years imprisonment. The U.S. does not have any federal blasphemy laws, but as of 2012, several U.S. states – including Massachusetts and Michigan – still had anti-blasphemy laws on the books.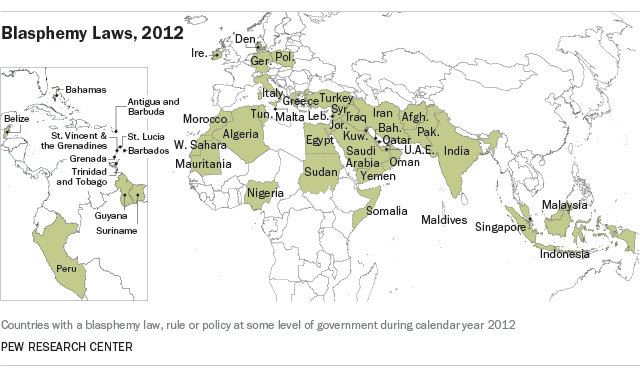 Massachusetts: General Laws: Chapter 272, Section 36
https://malegislature.gov/Laws/GeneralLaws/PartIV/TitleI/Chapter272/Section36
Section 36
. Whoever wilfully blasphemes the holy name of God by denying, cursing or
contumeliously
reproaching God, his creation, government or final judging of the world, or by cursing or contumeliously reproaching Jesus Christ or the Holy Ghost, or by cursing or contumeliously reproaching or exposing to contempt and ridicule, the holy word of God contained in the holy scriptures shall be punished by imprisonment in jail for not more than one year or by a fine of not more than three hundred dollars, and
may also be bound to good behavior
.