The following image includes some pie-charts to compare and contrast with poorly normalized vs properly normalized table structure.
Please add points not covered or improve where you feel it could be said better. I hope at the end I could improve the charts and the explanations. Also, possibly add some objective points not covered yet.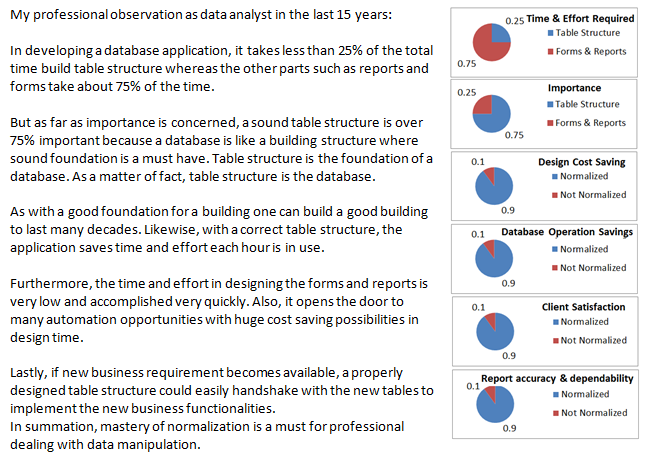 Here is the text:
In developing a database application, it takes less than 25% of the total time build table structure whereas the other parts such as reports and forms take about 75% of the time. 





But as far as importance is concerned, a sound table structure is over 75% important because a database is like a building structure where sound foundation is a must have. Table structure is the foundation of a database. As a matter of fact, table structure is the database.





As with a good foundation for a building one can build a good building to last many decades. Likewise, with a correct table structure, the application saves time and effort each hour is in use. 





Furthermore, the time and effort in designing the forms and reports is very low and accomplished very quickly. Also, it opens the door to many automation opportunities with huge cost saving possibilities in design time. 





Lastly, if new business requirement becomes available, a properly designed table structure could easily handshake with the new tables to implement the new business functionalities. 




In summation, mastery of normalization is a must for professionals dealing working with data manipulation.