I have a name, address, city, state and zip spreadsheet "A" with 10,000 entries.
I have another spreadsheet "B" with 300 names only.
I would like to take the names on the "B" spreadsheet and indicate them on the larger spreadsheet with an "X" in a separate column. (See graphic)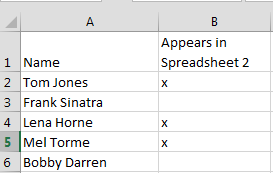 Also, whenever there is a match on Spreadsheet "A", I would like to have that entry on spreadsheet "B" indicated in BOLD and ITALIC.
How can I do this?
I asked a similar question previously but now I need the indication in spreadsheet "B".
earlier question