We are creating a VM in our Toshiba notebook.  We have Windows 7 & XP VM but now we need to create a Windows 8.  Unfortunately, we did not receive the the Windows 8 CD.  After calling Toshiba, we were informed that the OS is in a partition and to have the OS is just to run the recovery tool and that will copy it to a USB flash drive; which we did.
Since creating VM we uses ISO, when viewing the USB, there is none (see pic).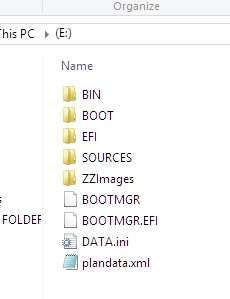 How can we use the USB recovery flash drive to install Windows 8 to a Windows 8 Hyper-V Virtual Machine?