I've changed the "Associate file type" several times to make .xls programs open with Excel 2013, but the icon remains as Excel 2007 both on the Associate list (see attached image) and on the desktop files, and it does try to open with Excel 2007, not 2013. If I first run Excel 2013, then open the file, it does so, but will not use 2013 when double-clicking the Excel icon.
Worse, the Excel 2007 program doesn't actually open the spreadsheet. I get a blank sheet:

Even files created with Excel 2013 try to open with 2007 and are blank.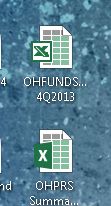 The only way to open *any* spreadsheet no matter how created is to first open Excel 2013, then 'Open' the file.
How do I fix this?
associate-file-type.jpg