Is it possible to get a list of columns from a query?
I have a table:-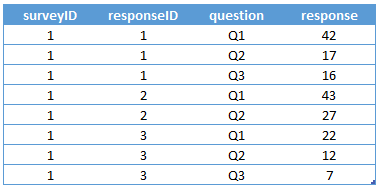 But I want it to display the contents as:-

I know I could use a query such as:-
Select DISTINCT `question` FROM `myTable` WHERE `surveyID` = 1; 



Then build up the SQL statement to display my table.
I was going to use SQLite but think its not powerful enough to do this, so was thinking of using MySQL.
Any ideas if this is even possible, and if possible how can I do it?
Thank you