Alright, I have a pretty complex issue at hand. I will explain all details upfront as to get to the bottom of this as soon as possible. I simply need to get a grip on this setup, not get it to best practice standards. I have recently taken over a company's IT, and it's a mess and a half. What I want to discuss here is Outlook communicating with Exchange.
QUESTION 1:
There is a single server Exchange 2010 environment with about 115 mailboxes. OWA always works, on and off-site, but the Outlook clients do not. About once a day, all Outlook clients lose connectivity. In order to fix this issue, the company has been resetting the Exchange server, which usually allows connectivity for Outlook clients until the next day or so. For the past few days, I've been just resetting the Exchange services instead, which also allows Outlook connectivity again. What I noticed today was that their version of Exchange wasn't licensed; it's trial period had expired some time ago. I purchased and set them up with a license today, and then reset all Exchange services again, and the Outlook clients are connected. Was the license the issue? Or is this likely going to continue for some other reason?
QUESTION 2:
I cannot for the life of me setup a new Outlook client. Whether inside the network, or on the outside, both which have connected Outlook clients (when the intermittent issue stated above aren't active), I cannot add a client.
I don't use autodiscover, as it isn't setup properly (there's no DNS record for it), so I manually enter mail.hostname.com as the mail server. Outlook Anywhere is currently setup for Basic Authentication. Attached is a screenshot of the working setting on a working Outlook client.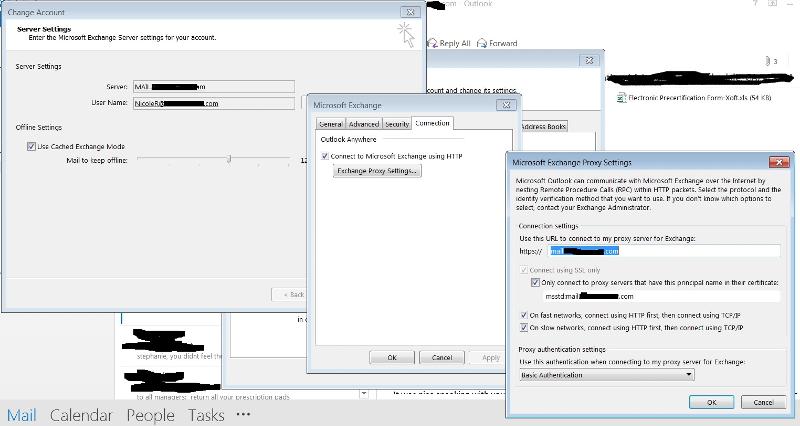 There is a properly working SSL cert.
The MS Connectivity Analyzer fails when I test Outlook Connectivity, please see attachment. Notice that I do have to manually enter the server info, and select Basic authentication, or it fails even sooner in the process. When setup as described, it complains about port 6004. Should the clients only need 443? As they're using Outlook Anywhere?