I have something strange happening. In my Outlook 2007 I have a rule directing mail to the Junk E-mail folder. That works fine. But when I go to that folder and delete the email, It does not sent it to Deleted Items, it puts a line through it. Not only that, but if I try to delete the now struck-through message, it duplicates it in the Junk E-mail folder also with a line through it: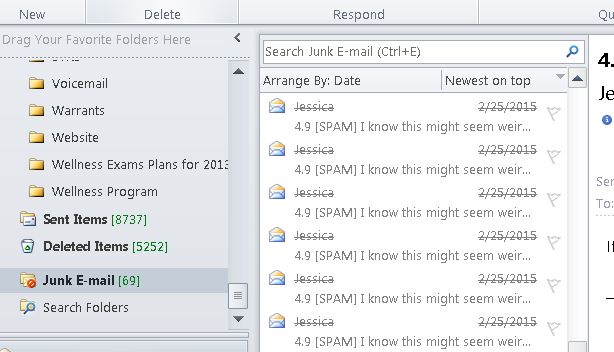 I've checked my Rules and aside from the recommended 'Clear categories on mail' (whatever that does), the only rule I have is the SPAM rule sending mail to the Junk E-mail folder if the string "[SPAM]" is in the subject.
On Home tab > Junk group > Junk > Junk E-mail Options, I have "Choose the level of junk e-mail protection you want:" set to 'No automatic filtering'.
In File tab > Account Settings > More Settings > Deleted Items, I have "Move deleted items to the following folder on the server:" set to 'Deleted Items'.
Deleting messages in other folders works just fine.
Any idea what's up? How to fix?