I have a rejoined staff called Kelly Smith (I have changed her name here).
She had left the company one year ago and she had the account below:
AD Username in Windows 2003 Server: abc.com\
kelly.smith
Email Address int Exchange 2007 is
kelly.smith@abc.com
We had deleted accounts above (everything) when she left the company.
This year, she rejoined our company and we have recreated the AD and Exchange Account for her.
AD Username in Windows 2003 Server:
abc.com\kelly.s
Email Address int Exchange 2007 is kelly.smith@abc.com
This time we are using different AD name (kelly.smith - old one, kelly.s - new one)but same email address
. All the while we have no issue for creating account for rejoined staff, but this time we are not able to send email to kelly.smith@abc.com. Means she cannot receive email from anyone at her mailbox. The sender will receive the NDR below from the Exchange Server.
IMCEAEX-_O=FIRST+20ORGANIZATION_OU=EXCHANGE+20ADMINISTRATIVE+20GROUP+20+28FYDIBOHF23SPDLT+29_CN=RECIPIENTS_CN=kelly+2s@abc.COM




#550 5.1.1 RESOLVER.ADR.ExRecipNotFound; not found ##



If the email address kelly.smith@abc.com in the Alias, user are not able to receive email and sender will get the NDR.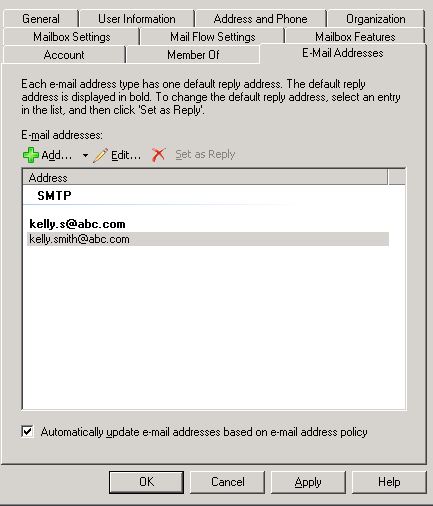 If I remove kelly.smith@abc.com from the Exchange Server and leave other alias, ex: kelly.s@abc.com or other alias. We can deliver mail box to her mailbox. Please see the figure below: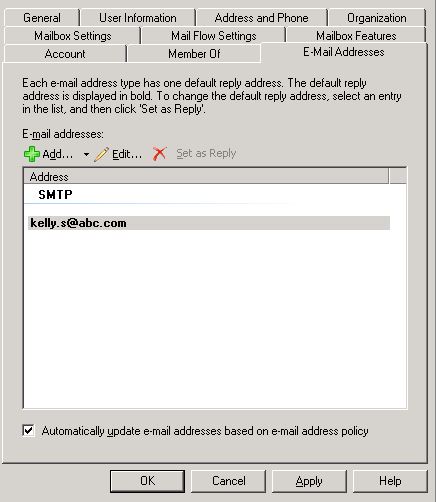 When I check the Legacy of kelly.smith, it show the result below.
[PS] C:\Documents and Settings\xxx>Get-Mailbox kelly.smith | fl LegacyExcha




ngeDN






LegacyExchangeDN : /o=First Organization/ou=Exchange Administrative Group (FYDI




                   BOHF23SPDLT)/cn=Recipients/cn=kelly.smith



Anyone can help to fix this issue? because we need to assign this email ID (kelly.smith@abc.com) for the user.