Second day of trying to start with fresh 8.1 installation on my Surface RT, all updates on, and still get reported failures from apps.diagcab tool. It is possible nothing is wrong but that the tool reports a failure due to a bug or being out of date with current RT software, or cache folder locations or design. The tool looks like this...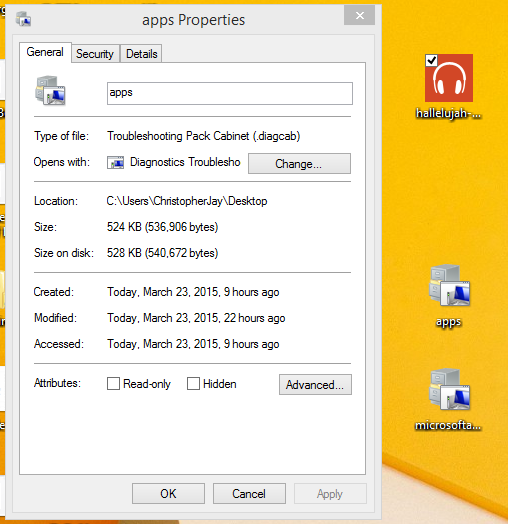 and is here.
http://download.microsoft.com/download/F/2/4/F24D0C03-4181-4E5B-A23B-5C3A6B5974E3/apps.diagcab
From this link.
http://answers.microsoft.com/en-us/ie/forum/ie11-iewindows8_1/ie11-metro-fails-to-launch-after-splash-screen/bed951a0-2e79-4420-a397-e7605575f05b
History:
For months I've noticed being hacked. Mostly seems like data monitoring rather than tremendous damage. It is something that feels like remote access in the middle of my doing something. Kinda like showing off. A couple weeks ago got hugely hacked at a client's house on their Comcast setup. I recorded a video of it on my phone and posted it on Google. Possibly available if need be. Another show off style of hack. Without me saying so the client saw the video and described it as "show-off" attack. At this client's house I tried to enter a CNNhln site, it took over my computer and played an audio file loop of ...
"You must fix your system. Call the number below. Your credit card info and data are at risk" (kinda like that)
While I was recording my Surface RT on my phone, the hack then took over the TV and put a still bitmap message across the screen about attending a swinger's convention, and on the basement TV a still video grab of a local newscaster from the 90's in mid-sentence. Then later while I was on the phone with Comcast they booted up the client's Apple I was not able to take over the menus fast enough so unplugged everything instead. After that, TVs were not functional and Comcast had to come out the next morning and restart all services. Everything is reported fine at client's house since then.
Finally decided to try and check into all this yesterday. Below is part of an email to my current contact at Microsoft. I said:
Re: SFC
Thank you for following up. Yes, sfc can be good. Didn't find anything for me though. Not in months past, nor today after reset. That's the thing about how I feel hacked and ridden to see what I'm doing, rather than do too much damage and get discovered.

Re: Trouble deleting javascript filenames.
One thing I noticed since the last time (about a year ago?) I reset Windows, today I had difficulty deleting Windows.old file. You have to select it, change permissions so you can delete it, then delete it. So long ago, it smoothly deleted. Today while going through this procedure Windows notified me of about 8-10? files that could not be deleted because their filename was too long so Windows couldn't handle it. So Windows quit deleting and left me with these few javascript filenames (the filenames were a long line of code) down a subfolder or so under my AppData folder . I selected show them to me individually. If from real advertising, it was from Verizon and Huntington Bank ads. The Huntington Bank got me, because it would have to do with a question I tried to help answer about Huntington Bank website problems on a forum. I am a member of Experts-Exchange.com and tomorrow I'll try and find that question from long ago and see what was said. I can't forget the feeling those months ago. I felt led into a trap I remember because when I went to the Huntington Bank site it messed up my computer. I took all these screen grabs of the dialogue box of deleting the javascript filenames to show someone, then lost my head and reset windows without getting the screen grabs off there first. It's important to me so will try to replicate tomorrow while customizations are not done for my new install yet. If I had a low-level disk tool I would try and recover the screen grabs but I haven't come across one for RT yet. I don't remember how I got those files deleted so I could delete the upper parent Windows.old folder. There was something funny about it.

Re: Sample output from apps.diagcab.
Tonight, after my earlier reset of Windows, I finally had a chance to get back and try the apps diag tool to reply to you. I ran the apps diag tool twice and it still shows corruption every time. I think it may be a good tool. I will put some screen grabs of it in this email or attached prior to sending.

The two output files are .oxps and are each two pages I think. You should find them attached.
And I have attached them here as PDFs. I also have a few more, newly created screen grabs of the too long a filename to delete problem. While trying to manually delete the Store cache, I renamed the cache folder cacheold. Ran apps.diagcab again, got same errors, tried to delete the Cache folder that had just gotten created automatically, and had a similar deletion problem. Here is what one of them looks like.
MetroAppDiagOutput1.pdf
MetroAppDiagOutput2.pdf