At the moment, I have MS Paint to create the following shape. The yellow portion needs to be transparent. I have shown it in yellow for clarity. MS Paint doesn't have transparency capability.
Question: If you have the right tools, could you please create these two shapes and upload it here?
Please make it in gif. And also do not include borders with these shapes.
Thank you.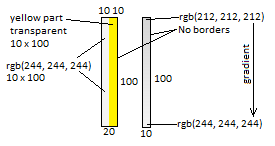 shape1.gif (100 x 20)
shape2.gif (100 x 10)