I've been spending hours using google, etc., to try to figure this out myself, but I'm coming up blank.  Everything was working perfectly 2 days ago.  Since then, I replaced the Comcast supplied cable/modem/router with a Zoom which forced me to change all of my internal IP numbering.  I then "re-keyed" the SSL certificates that I use for the Remote Gateway and the Host Session and now I can't connect my RemoteApps (using .RDP files or RDWeb...).  I'm thinking that the problem must be in the Remote Gateway, since I don't even get to the login screen using RDWeb!?  Internally, from one of my workstations I get this error:

Externally, from an outside network, the .RDP connection prompts for credentials, then responds with this error: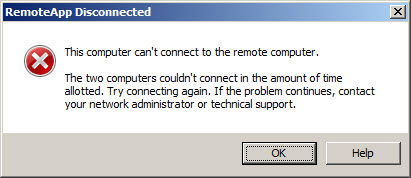 I'm guessing it must be something simple, but, as much as I really like the RemoteApp capability built into Windows, whenever ANYTHING changes, it always creates problems.