I have several Macs on a Windows domain. Domain controller is Server 2003 Standard Edition SP2. Macs are a mix of OS X Mavericks and Yosemite. All Macs are joined to the Windows domain.
I've recently set up the RADIUS server so this my first attempt at getting this type of wireless working on this network.
Server 2003:
Internet Authentication Service (IAS) is installed as well as Certificate Services. Self-signed certificate in place.
I have a Security Group for Wireless users that includes all domain users and domain computers. My laptop shows up in the list of computers.
In IAS I have a Remote Access Policy that includes the Wireless Security Group
I have added the Netgear wireless AP to the RADIUS Clients, its IP address and Shared Secret.
IAS ports are the default 1812, 1645
The laptop I am testing from is a MacBook Pro with Yosemite.
Netgear WNDR3700:
Router is set up in AP mode. WAN and LAN setting links now grayed out of course. Static IP assigned to the router that matches a reserve on the DHCP server.
Both 2.4GHz and 5GHz bands set to WPA/WPA2 Enterprise, RADIUS server ip matches the RADIUS server, port 1812, Shared Secret typed in.
I also set up a guest network if that matters.
When I attempt a wireless connection, the laptop connects to the router, I'm presented with a Username/Password login which I would expect. I enter the creds, the wheel spins then: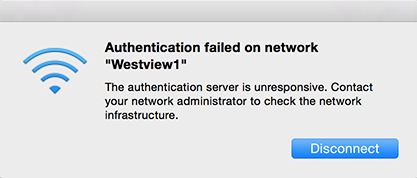 What am I missing?
B.T.W., I can connect to the guest network wirelessly using basic WPA2 security and a passphrase. I currently have a static IP on the main network's subnet on the wireless adapter on my laptop.
So I'm thinking I missed something on the RADIUS server configuration.