Hello Experts,
I am trying to create a 100% Stacked Column Chart with the widths of the Columns also totaling 100%, so both the X and Y Axis will equal 100%. The stacked columns are easy and displaying as needed, but now I need to dynamically set the width of each column based upon the percentage of the total it represents on that axis. I did find an article where you go into the Custom Attributes and set the PointWidth value, the problem is this sets all columns to the same width, I need each column based on the percentage it represents.
My data looks like: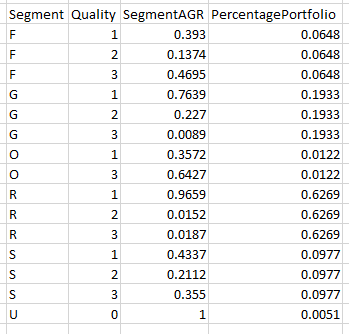 Each column is represented by a Segment and the stack is the Quality, the value is the SegmentAGR as a percentage of the total segment. I would like the width of the bar to be represented by the PercentagePortfolio value which is tied to the Segment as well, I would need to use the FIRST() of each PercentagePortfolio for the segment to equal 100%.
I'm sure this can be done and I am not searching the appropriate term to get the results I am looking for, any help is appreciated.