Hello,
I have several favorites in (for lack of a better term) that are bookmarked. I wish to place them in their own folder. (I'm referring to the favorites bar near the top of the screen.) I created the folder; however, I am unable to copy and paste the favorites.
I did the following:
1. Right clicked on the favorite I wished to copy. (BeethTrio)
2 Chose COPY.
3. Brought up the new folder.
4. Pressed [CTRL]-V to paste
But nothing happens.
Please see the screenshot below. The icon I wish to copy is to the left of the folder "78sRemaster."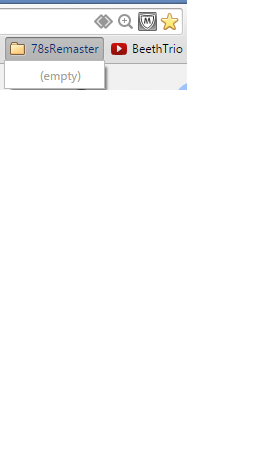 Thanks
Steve