I understand PowerShell but this is my first ever attempt at C# using Visual studio 2013.
I want to be able to click one of my programs, get a description of it and then choose to run it.
So far I have most of what I want but I am stuck on the variable portion.
I think the issue is the variable does not carry into the next code block for lack of a better understanding.
Hope the picture is shown.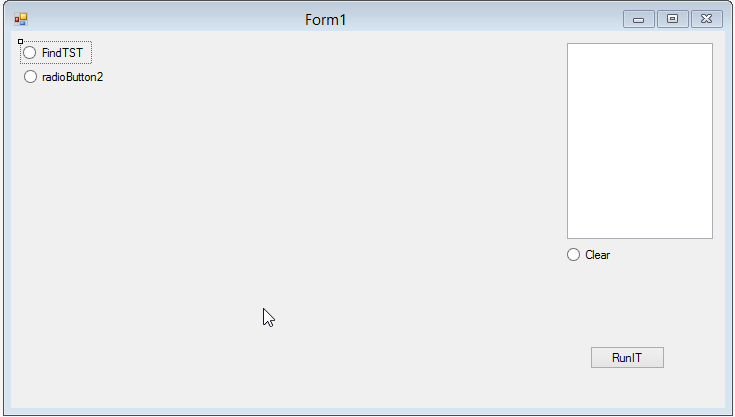 I click FindTST radio button and I get my description of what it does in the text box. That part works fine.
After I see what it I want to click run it and have it start the program.
So I have stored it in a variable called path1 but the button that says RunIT does not seem to recognize the variable path1.
My code is below.
Thanks
using System;




using System.Collections.Generic;




using System.ComponentModel;




using System.Data;




using System.Drawing;




using System.Linq;




using System.Text;




using System.Threading.Tasks;




using System.Windows.Forms;





namespace WindowsFormsApplication8




{




    public partial class Form1 : Form




    {




        public Form1()




        {




            InitializeComponent();




        }





        private void checkBox1_CheckedChanged(object sender, EventArgs e)




        {





        }





        private void checkBox2_CheckedChanged(object sender, EventArgs e)




        {





        }





        private void RBFindTST_CheckedChanged(object sender, EventArgs e)




        {




            




            string  path1 = @"C:\Users\9201401145\Google Drive\Scripts\PowerShell\FIND THE TST.exe";




            




            TXTInfo.Text = "Runs the below program." + "\r\n\r\n" + " " + path1;




            // C:\Users\9201401145\Google Drive\Scripts\PowerShell\FIND THE TST.exe




            





        }





        private void TXTInfo_TextChanged(object sender, EventArgs e)




        {




            




        }





        private void radioButton1_CheckedChanged(object sender, EventArgs e)




        {




            TXTInfo.Text = "";




        }





        private void BTNRunIT_Click(object sender, EventArgs e)




        {




            TXTInfo.Text = path1;





        }




    }




}