I have a database that, when closed looks to see if it was backed up more than 7 days ago.
If it sees it has a backup within the past seven days, it successfully closes out the network drive it uses to access the data tables and exits Microsoft Access -- no errors.
If it does not have a recent back up, it runs a Module process called "BackupMade" that creates a copy of the backend tables. This works fine and comes back to the "Form_Close" Sub.
After that, if the back up was done (BkupMade = True), it also makes backup copies of all folders and files in a specified directory. Again, this works fine.
It then runs a quick process to re-enable the "X" button for the Access application, which I disable during use so they are forced to use my "Exit Database" button to close out of the app.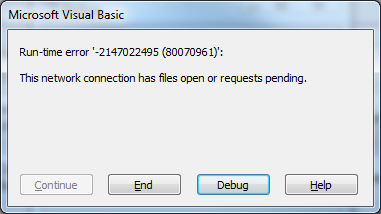 My problem starts after this point when I try to close the network drive that the database creates and uses to reach the backend tables. When it gets to the statement: objNetwork.RemoveNetworkDr
ive "Q:", I get the error in the title (see attachment).
I'm ok with coding, but not formally trained. And, I did not write the attached code, instead got it from a forum like this where someone helped me with most of it. I understand most of what it does, and have even been able to make my own edits to it over time. But, I cannot figure out where I have missed closing out a dataset or some request to the data tables that is forcing the database to require the connection to the tables remain open.
Can someone help me by pointing out what is forcing this to not close?
I've attached the actual code in the shutdown Sub below:
Private Sub Form_Close()





Dim Db As Database




Dim old_RST As Recordset




Set Db = CurrentDb




Set old_RST = Db.OpenRecordset("tbl_Bkup", dbOpenDynaset)





Dim objNetwork




Dim BackupDir As String




Dim docPath As String




Dim docFolder As String




Dim CurrentState As Long




Dim fc1





old_RST.MoveFirst




BackupDir = "Q:\Backups"




docPath = "Q:\Documents"




docFolder = ParseWord(docPath, -1, "\")





If (DateValue(old_RST![BKUP_DATE]) <= (DateValue(Now()) - 7)) Then





        old_RST.Close




        Set old_RST = Nothing




        Db.Close





    'Opens form to Edit Categories




    DoCmd.OpenForm "frm_Msg"




    Forms![frm_Msg].SetFocus




    




    BackupMade (BackupDir)




    




    If (BkupMade = True) Then




        




        If (Dir(BackupDir, vbDirectory) = "") Then




        




            msg = MsgBox("The directory " & BackupDir & " does not exist. Please correct this using the 'Options Menu'. Backup is aborted.", vbOKOnly, "Error!")




            Exit Sub




        




        End If




    




        fc1 = CopyFolder(docPath, BackupDir & "\" & docFolder & " " & Format(Now(), "yy-mm-dd hh-mm"), True)





        'Re-enables the "X" button to close out of Microsoft Access




        CurrentState = SetCloseBox(True)




        




        Set objNetwork = CreateObject("WScript.Network")




        Set filesys = CreateObject("Scripting.FileSystemObject")




        objNetwork.RemoveNetworkDrive "Q:"   '************ This is the line where the error appears ***********




        Exit Sub




    End If




End If





    old_RST.Close




    Set old_RST = Nothing




    Db.Close





    'Re-enables the "X" button to close out of Microsoft Access




    CurrentState = SetCloseBox(True)




    




    Set objNetwork = CreateObject("WScript.Network")




    Set filesys = CreateObject("Scripting.FileSystemObject")





    objNetwork.RemoveNetworkDrive "Q:"





End Sub