Hi Experts 
I would like to set-up an internal IPTV network in the office that will simulate a real IPTV network.
The IPTV network is streaming its content using multicast.
The clients are registering to the multi-cast streams using IGMP protocol. The routers between the clients and the server are using the PIM-SM protocol in order to make a multicast route from the server to the client.
See a typical network configuration: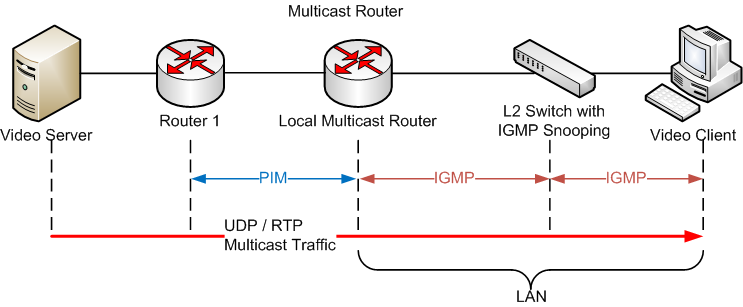 What I thought is that we will add two new routers inside the office network (that supports IGMP and PIM-SM), one which is connected directly to one of the VLANs ("Local Multicast Router" as shown above) and the other that is connected to this router ("Router 1" as shown above).
The first router will receive all the IGMP requests for specific multi-cast address and pass it to the next router as a PIM request.
Which router supports IGMP/PIM?
Do our switches have an IGMP snooping support? (HP 2910al-24G Switch, HP ProCurve 1800-24G, HP ProCurve 1810G)
Thanks,
Osher.