We are using IMAP with Outlook 2013. Outlook 2010 users are not having this problem.
I have a couple of users, one in particular (the Big Boss, unfortunately) whose messages too frequently get stuck in the outbox. The error is 0x80040201: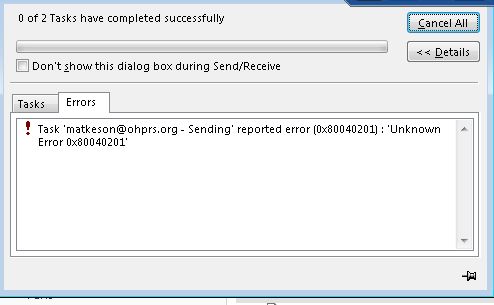 The stuck messages have some odd characteristics. For example, the 2nd stuck message shows a size of 0, even though it contains the same 3 spreadsheet and 1 PPT attachments as the 1st message. The 1st two stuck messages shown are to the user himself. (see image)
The user is able to get his messages out by copy/pasting pieces of the message body into a new message. Then it sends OK.
I've searched quite a bit on this including the typically very good website slipstick.com:
http://www.slipstick.com/problems/common-problems-that-cause-email-to-stay-in-the-outbox/
. Most sites, including this one, recommend deleting and recreating the profile, which I've done several times.
This site:
http://www.pcreview.co.uk/threads/getting-error-0x80040201.1872774/
, "Solution two" indicates that there might be a problem using email addresses that were formerly in Exchange but are now used with POP (or IMAP). It recommends
change recipient properties and set EMAIL TYPE to SMTP, and EMAIL ADDRESS to something like "" and do not use auto-substitution of recipient, or DELETE cache record in pop-down list by pressing UP, DOWN and DELETE button on keyboard and then typing email again...
Not sure what he means by the whole phrase starting with "do not use auto-substitution of recipient", but I did locate the address book field 'Send From' which shows EXCHANGE ADMINISTRATIVE GROUP (see image). As one experiment, how would I edit this field?
Otherwise, does anyone have any idea what causes this and how I can fix it?
stuckInOutbox.jpg
AddressBookFields-SendFrom.jpg