so I'm setting up my new server
and moving data over from the old, recreating shares and everything was going smoothly until
I went to the server and saw that I wasn't able to see the shared drives except 1. The rest give "Windows cannot access" fig 1

So I started testing and figured out that if I add my user profile directly to the share it immediately works and I can see the data in the share.
My profile is part of the "Administrators" group which is attached to all these shares but it isn't working.
and as far as I can tell that just adding my direct profile to the share is fixing the problem instead of the security group.
Tried another idea, to totally remove the share altogether and add the security group "Administrators" back to the share but still no go there.
The "Everyone" group seems to work fine.
and gives me access.
Another try, I created a new share "AdminShare" and put my user profile into it. Added it with full control to that share. No go.
My next idea, copied my profile in active directory and adding that profile to the new "AdminShare" and the "Administration" share is working.... but yet the new profile which is a copy of my profile also has "Administrators" account but I can't access the other two shares again as in fig 2

and then I download the Solarwinds Permissions Analyzer and get all green lights..... fig 3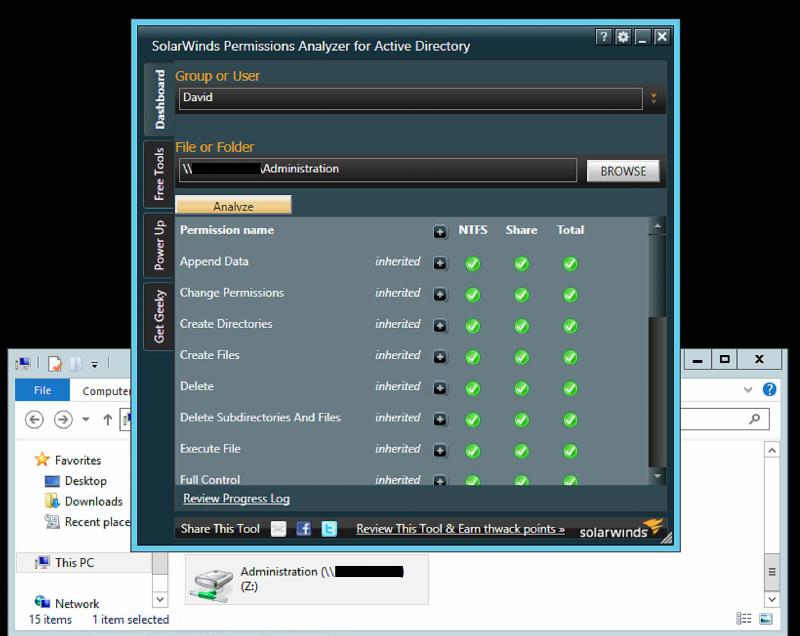 Any ideas on what is going on here?