I made this class
<Serializable()> _




Public Class mystep3




    Inherits NStep3Connector




    Implements ISerializable





#Region "Serialization"




    Public Sub New(ByVal info As SerializationInfo, ByVal context As StreamingContext)




        e_MiID = info.GetString("MiID")




    End Sub





    Public Sub GetObjectData(ByVal info As System.Runtime.Serialization.SerializationInfo, ByVal context As System.Runtime.Serialization.StreamingContext) Implements System.Runtime.Serialization.ISerializable.GetObjectData




        info.AddValue("MiID", e_MiID)




    End Sub




#End Region





#Region " properties ..."




    Public e_MiID As String = Nothing




    <Browsable(True)> _




    Public Property MiID() As String




        Get




            Return e_MiID




        End Get




        Set(ByVal value As String)




            e_MiID = value




        End Set




    End Property




#End Region





#Region "Initializers"




    Public Sub New()




        MyBase.New(False)




        MyBase.StyleSheetName = NDR.NameConnectorsStyleSheet




        MyBase.StartPoint = New NPointF(250, 220)




        MyBase.EndPoint = New NPointF(330, 280)




        MyBase.FirstVertical = True




    End Sub




#End Region




End Class



It works ok, but I have this issue:
Im trying to access the custom property "MiID" by code but I cannot find it, if try to listen the properties I only find it following this steps:
step1: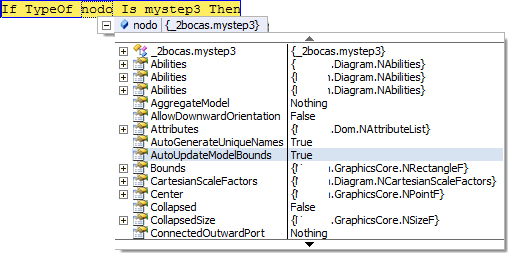 step2: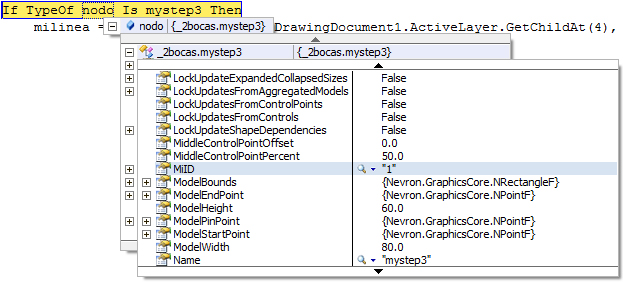 Is ther a way to assigned it to a variable ???
Do Im doing something wrong??????