Hi
I have a 2008 R2 SP1 server, that when I click on the properties of a drive, there isn't a shadow copies tab.  I found the cmd line for vssadmin list volumes, but what I need to know is how much disk space is being used by the shadow copy.  the GUI makes that very easy.
The reason I need to know this is that the drive is running low on space and we have a terrible backup program called Appassure that goes crazy with VSS sizes.
I also found the cmd vssadmin list shadowstorage and I think I see the vss being 450 GB out of a 3 TB drive.  Please see attachment.
What I really want is the GUI tab back...
Thanks!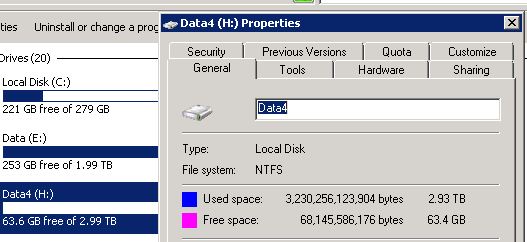 Tony