Hello Expert,
Found some CSS code to make a border for htm pages that adjusts
to the size of the window.
It works great in Firefox 37 and Chrome 41 but is jacked up
in Internet Explorer 8.
Is there some way to make this work for IE 8 ?
Thanks
Allen in Dallas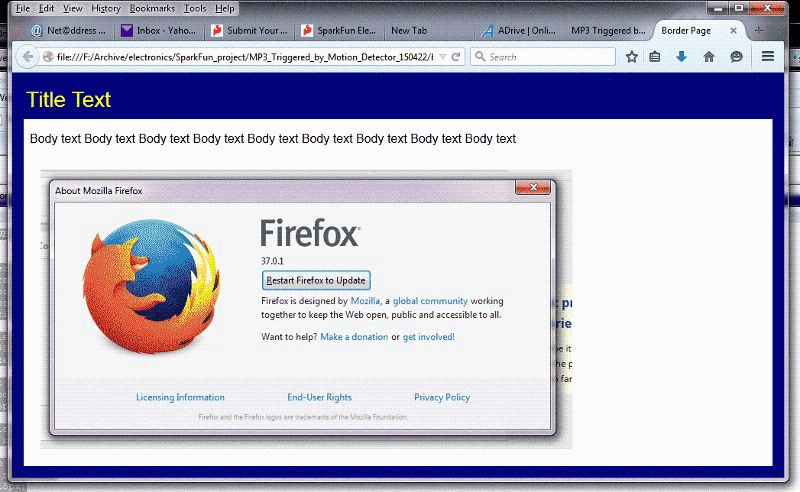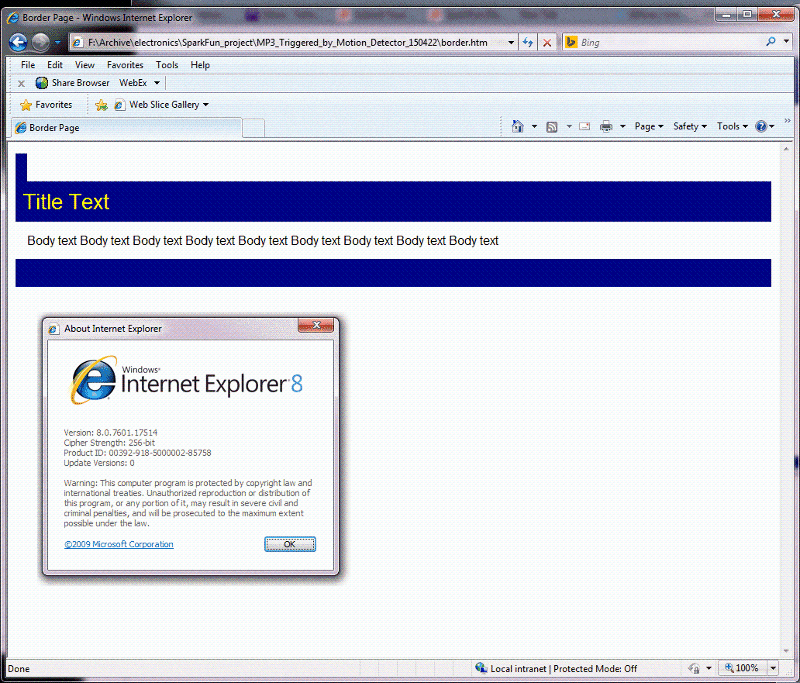 <!DOCTYPE HTML PUBLIC "-//W3C//DTD HTML 3.2 Final//EN">




<HTML>




<HEAD>




<TITLE>Border Page</TITLE>





<STYLE>




#top, #bottom, #left, #right {




	background: #000080;




	position: fixed;




	}




	#left, #right {




		top: 0; bottom: 0;




		width: 15px;




		}




		#left { left: 0; }




		#right { right: 0; }





	#top, #bottom {




		left: 0; right: 0;




		height: 15px;




		}




		#top { top: 0; }




		#bottom { bottom: 0; }





 body {font-family: arial}





 div.blue {background-color: #000080; color: yellow;




 padding: 10px 10px;




 font-size:28px;




    }




div.text {




 padding: 15px 15px;




 font-size:16px;




    }




</STYLE>





</HEAD>





<BODY BGCOLOR="#FFFFFF" TEXT="#000000" LINK="#000080" VLINK="#800000" ALINK="#FF00FF" BACKGROUND="?">




<div id="left"></div>




<div id="right"></div>





<div class="blue">Title Text</div>




<div class="text"> <!- begin text -->





Body text Body text Body text Body text Body text Body text Body text Body text Body text





</div> <!- end text -->




<div id="top"></div>




<div id="bottom"></div>





</BODY>




</HTML>