Hi, all! User environment is Win7/64-bit w/Office 2010 32-bit; server environment is Exchange 2010 on Win2k8 R2 & Exchange 2013 on Win2012 R2. This issues has occurred on only a couple users migrated from Ex2010 to Ex2013; others work perfectly fine. There are also a couple other weird issues post-Migration that one or two users have experienced. WAN is a two-office AD domain with stand-alone 2010 servers in each location and a 2013 DAG configured and working as designed across a WAN link. Affected users (thus far) are at the same physical location as both their 2010 server and the location of the active 2013 database. For reference servers at Site A will be called MXS1 (Ex2010) and MXS2 (Ex2013) and Site B will be called MXN1 (Ex2010) and MXNV (Ex2013).
Here's the problem: one user on above platform (Win7 & Exchange 2010) has shared his Contacts & Calendar with given users. One of those user's mailboxes was recently migrated to Exchange 2013. Access to the shared Calendar works fine, no issues. When the user tries to access the Contacts she is prompted for login credentials. Entering correct credentials has no effect; saving entered credentials has no effect. After several failed attempts a prompt appears saying that the Exchange server is unavailable (which it isn't, because there are a lot of other users on it without issue).
The user's mail profile has been deleted and re-created multiple times. Outlook 2010 has been reinstalled. The following key points have also been examined and ruled out:
* not cached credentials issue (verified no credentials are cached)
* not 64-bit OS v 32-bit Office issue; I can log onto a Win7-64bit box with Office 2010 32-bit in the other location with affected user's creds and Contacts works as it should
* not a basic authentication vs negociated authentication issue (verified settings)
* not a "always prompt..." issue (this checkbox is not checked)
* mail profile recreated multiple times
* not a network/server connectivity issue; connectivity remains intact and working perfectly
* Contacts share has been removed and recreated several times; rights for the affected user in those Contacts have been individually removed and re-added; no effect
* Encryption between Outlook and Exchange is set (edit after original post-- sb)
A couple things to note here: first, when I go into the account settings for the user (and any user that has been migrated thus far, irrespective of whether they have issues or not) the server name appear as a SID in email address format, and no longer as a typical FQDN server name format (see below).
Second, when I check the connection status on users that have these odd credentials issues after migration it appears that Outlook is attempting to connect to the OLD Exchange server for that user's account (MXS1). See below...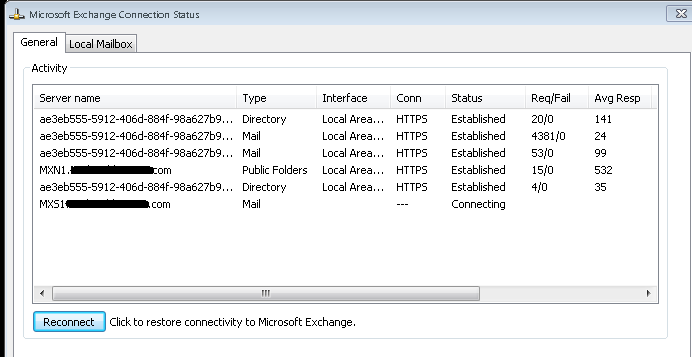 Name resolution for the servers are as follows:
x Autodiscover.mydomain.com = MXS2 (Ex2013)
x Mail.mydomain.com = MXS2 (Ex2013)
x OWA = MXS2 (mail.mydomain.com/owa)
Suggestions on how to proceed would be appreciated. Once again, only a few migrated accounts are having these odd issues; most that have been migrated and new accounts created on Ex2013 are working perfectly (albeit they have the odd SID-formatted email address in their mail setups).
Thanks!
Steve