Hello,
I have a query I could use some help with... My issue is grouping / ordering / formatting (I think).
The question is, how do I get the results of my query to "group" on the same line? If you view attachment 1 you will see the highlighted items is displayed on two lines, I need to get them to display on one line as one Item.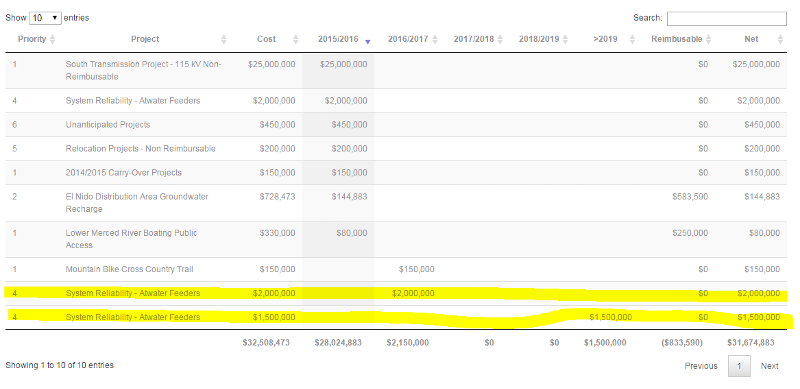 Attachment 2 is the column names in the database: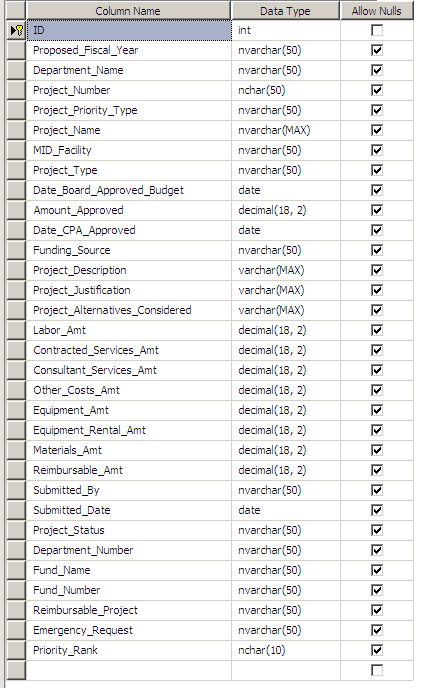 The hope this can be done with a simple group by or order by clause, but it has me jammed up at the moment.
My query is below:
<cfquery name="Projects_List" datasource="CPdB">




SELECT	ID,




		Proposed_Fiscal_Year,




        Department_Name,




        Project_Number,




        Project_Priority_Type,




        Project_Name,




        MID_Facility,




        Project_Type,




        Date_Board_Approved_Budget,




        Amount_Approved,




        Date_CPA_Approved,




        Funding_Source,




        Project_Description,




        Project_Justification,




        Project_Alternatives_Considered,




        Labor_Amt,




        Contracted_Services_Amt,




        Consultant_Services_Amt,




        Other_Costs_Amt,




        Equipment_Amt,




        Equipment_Rental_Amt,




        Materials_Amt,




        Reimbursable_Amt,




        Submitted_By,




        Submitted_Date,




        Project_Status,




        Department_Number,




        Fund_Name,




        Fund_Number,




        Reimbursable_Project,




        Emergency_Request,




        Project_Status,




        <!---Priority_Type,--->




        Priority_Rank,




		Fund_Number +' '+ Fund_Name +' '+ Department_Name AS CONCAT_Dept_Fund




FROM	Capital_Projects_tbl




<cfif isdefined("form.submitted")>




		WHERE	1=1




		<cfif #FORM.Department_Name# NEQ "Show All">




       		AND Department_Name = '#FORM.Department_Name#'




        </cfif>




        <cfif #FORM.Project_Status# NEQ "Show All">




       		AND Project_Status = '#FORM.Project_Status#'




        </cfif>        




<cfelse>




        WHERE 1=1




</cfif>




ORDER BY Proposed_Fiscal_Year ASC




</cfquery>