Hi, all! Platform is Exchange 2013 DAG at two sites, older Ex2010 stand-alone servers at both locations.
I'm currently migrating my Ex2010 mailboxes to Exchange 2013 at a single site (no WAN traffic movement) and the migrations are taking considerably longer than I anticipated due to stalls. In checking moves in-progress with Get-MoveRequestStatistics commandlet I'm seeing that the "TotalStalledDueToHADurati
on" stats are easily comprising 80-85% of the total run time of the move requests. There are also stalls due to Write Throttling, but considerably less.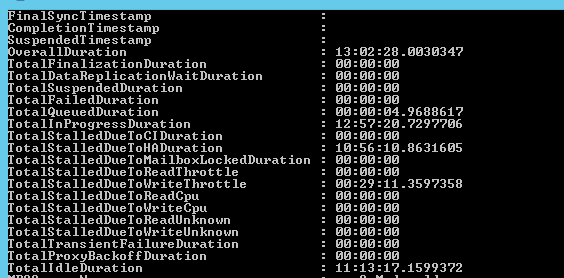 In Google'ing and searching TechNet I can't find a single reference to tell me exactly what the "HA Duration" stat is, let alone what is actually causing an issue. Can anyone give me in any information on this stat? Mailboxes that should only take a few hours are taking all night due to these specific stalls. Otherwise the Exchange servers (both 2010 and 2013 at that site) are performing perfectly.
Thanks.
Steve In NV