I need to be able to insert some custom commands into the New tab of PowerPoint at the top somewhere as indicated in this screenshot: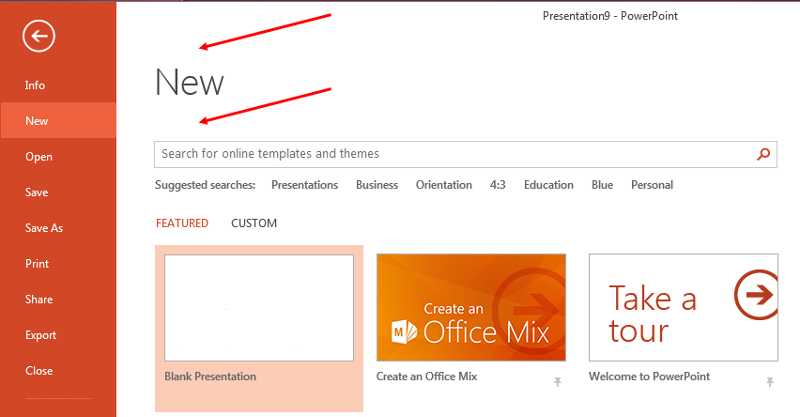 Apart from the fact that this tab's idMso appeared to be [oddly] renamed from TabNew in 2010 to TabOfficeStart in 2013 to trip us developers up, I can't get it to work. The structure of the default new tab appears to be a single column containing a single group. According to Microsoft's idMso sheet for PowerPoint 2013, the group id is GroupOfficeStart as per this extract:
Control Name Control Type Tab Set Tab
GroupOfficeStart group None (Backstage View) TabOfficeStart
So, what I do is to disable the default New tab before recreating it. Here is the backstage XML:
<customUI onLoad="onLoad" xmlns="http://schemas.microsoft.com/office/2009/07/customui">




  	<backstage onHide="onHide" onShow="onShow">    




		<!-- Turn off built in "New" tab -->




		<!-- idMso="TabNew" for 2010! -->




		<tab idMso="TabOfficeStart" visible="false"/>





		<!-- Create new "New" tab -->




		<tab id="myNew" label="New" title="New">




			<firstColumn> <!-- no attribs -->




                		<group idMso="GroupOfficeStart">




                		</group>




			</firstColumn>




		</tab>




  	</backstage>




</customUI>



But when this is run in PowerPoint and the backstage comes into view, PowerPoint throws a control ID error:
Failed to find Office control by ID. GroupOfficeStart
Is it possible to insert custom controls into the New tab?