We have two Meraki MS320's as our core and 6 tertiary switches that are meshed to the core switches (two trunk cables - one cable goes to each core switch). The tertiary switches are SGE2010's and SG500X's.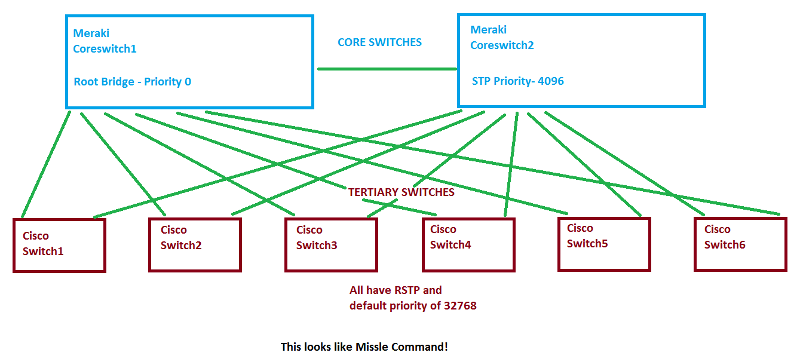 One of the tertiary switches (SGE2010) can only have a single cable plugged into the core. If I plug in the redundant trunk cable, the entire network goes down. It seems that the Cisco switch thinks it is the root bridge and therefore has no Root or Alternate STP port. The Bridge ID and Root Bridge ID are the same. The ports are all either disabled or forwarding. The trunk ports are configured just like the rest of the tertiary switches. What I find odd is that the core switch has a lower MAC address number than the Cisco switch. If two switches fight for Root Bridge, doesn't the lower number win? ... and why isn't my Cisco SGE2010 accepting Root Bridge declaration from the Meraki?
A reboot of the switch didn't fix the problem.
You can refer to this question that led to the issue. It didn't appear to take place before the STP changes. (or may be it did happen but root guard is making it become more evident)
http://www.experts-exchange.com/Networking/Network_Management/Network_Analysis/Q_28667364.html
Thank you for any help.