*As of yesterday, we are unable to retrieve and send email on any user account through
remote terminal sessions
with exchange server 2003 accounts. (OWA still works.)
Sorry for the very vague description, but that's the 'main' issue,
Our rack setup:
HP Proliant DL360p (Gen 8) with vmWare ESXi 5.1
NAS Synology DS1813+ (recently upgraded to 5.1.5022)
with 8 x 3TB Red iSCSI drives in a SHR array.
Cisco SG200-26p switch
Early March, we upgraded our Synology box to the 5.x series with no issues.
On March 27th, our Synology box auto-updated to the newer version and nothings been right since.
We started experiencing random loss of connection to the Synology NAS which we used as the only data store for all of our vms and backups.
From a terminal session (and also vmsphere), it would simply become completely unresponsive and give no warning or indication that it lost connection to the NAS. What made the situation worse was that since the synology box lost its network connection, we couldn't remote in and check what was going in. After a few sleepless nights, thankfully on the weekend, we narrowed down a relation between starting large backup files on the NAS to being a cause of the lost connectivity. So after reading about all the bad experiences in forums with the implications of updating to the newest 5.1.x, we decided on stopping any large backups from running (strongly against it, but it was the only way it stayed up).
Fast forward to yesterday, and our exchange server 2003 vm ( also running Active Directory and a domain controller), seemed to lock up. On a reboot, it started looping right after getting past POST, a few seconds into the windows 2003 server splash screen. So we tried to boot it up off of a repair disc and run a check disk, which fixed it enough to come back up but with log errors saying that there were still corrupt system files. Now, it's acting as if the users can't authenticate with the Exchange server on the Domain. And it also is
randomly
not letting users connect into the terminal server through rdp, throwing an "Access is Denied" error.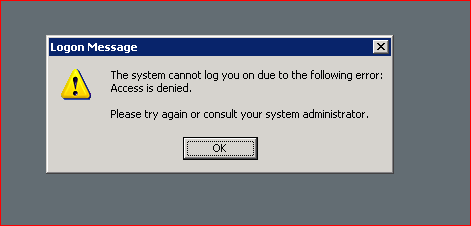 We have spent the last 24+ hours reading tons of other forumns, synology and vmware support pages, and trying every reasonable suggestion we have come across, but with no luck. So I have a feeling it has to do with the synology update and dropped network issues corrupting vm system files that have led to this somehow. So any suggestions or directions for narrowing the issue would be appreciated.