Hello!
I have a brand new Dell PowerEdge T320. It was pre-installed with Windows 2012 R2 Essentials. It has two NIC's and a Dell iDRAC card.
After the initial OS configuration, I tried to integrate with Office 365. This is the message that comes up: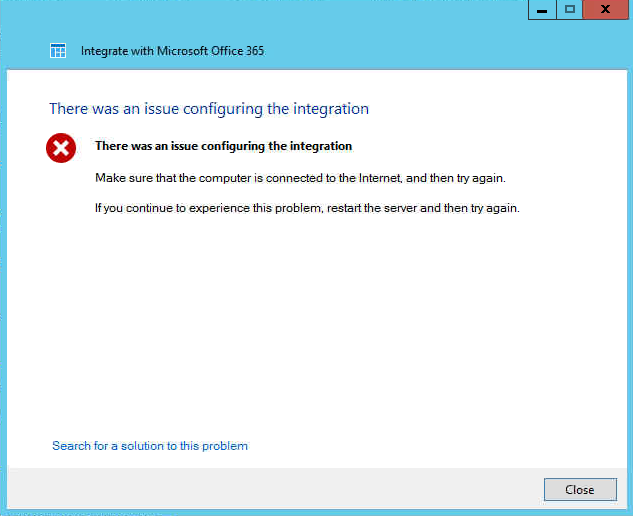 I rebooted over five times, still the same message. Thinking that maybe this was a bum image from Dell, I reinstalled the OS. Same issue.
Has anyone seen this before? Know a way around/through? Unfortunately, the Office365 integration was the selling point for a client on this OS.
I'm attaching the relevant log files from C:\ProgramData\Microsoft\W
indows Server\Logs regarding this error. Unfortunately, I just don't see anything that helps.
And yes, I can access the internet without issue on the server. In fact, if I mistype the password the wizard tells me that I have a bad username/password. I even try another Office365 tenant with the same integration failure.
The full text of the error is:
There was an issue configuring the integration
Make sure that the computer is connected to the Internet, and then try again.
If you continue to experience the problem, restart the server and try again.
ConfigWizard.log
SharedServiceHost-EmailProviderServiceCo