This problem is "haunting" me. I had virtually the exact same situation only 2 months ago (entered in EE with the exact same Title...), however, this time the situation is a little different. First, the only "firewalls" involved are Windows Firewall (built into the Server OS) and some firewall capabilities built into my Zoom Cable Modem router. I have the firewall in the Zoom Cable modem turned OFF which happened to be the ultimate solution to this problem the last time....of course, this time is different. I'm getting the same error messages as before, internally from one of my workstations I get:

externally from outside of my own network, a user gets: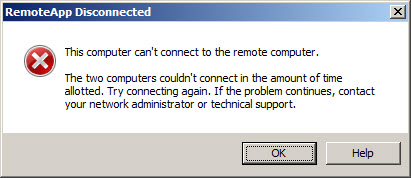 If I set the DMZ in the Zoom Cable Modem to the internal address of my server, I can connect to the RemoteApp from within my internal network, but not from outside (externally) of my network. When I do NOT set the DMZ, and I try to connect to my RemoteApp using the web connection, the internet "cannot display the page" and further diagnostics on the reason why it can't connect showed the following:
The web address displayed is actually my Gateway server and that appears to be my problem at the moment. Despite having some general connectivity problems this past weekend, I believe that most everything in my Remote Desktop setup is the same as it was before the connectivity problems. That said, I did have to restore my Server operating system to an image copy I took back in October of 2014 so there is a possibility that I've overlooked something. Any suggestions would be appreciated. As I said in my last question on this topic, as much as I really like the RemoteApp capability built into the latest Windows Server operating systems (when they're working), they are always a challenge to get set up correctly and I just have to believe that they should be able to come up with an easier GUI interface (which they may have in Server 2012!?).....