My Win 7 computer is running very slowly. It frequently take 3-5 minutes to open a Word document. 1-2 minutes to switch emails in Outlook. 4 minutes to open a pdf file, etc.
I have Avast Premier antivirus running. I have run: Autoruns, Jetclean, Revo Uninstaller, AdwCleaner, Junkware Removal Tool, HitmanPro, RKill, Malwarebytes, Comodo CCC.
Frequently TaskManager shows very little CPU usage for each application but high overall CPU usage overall (even when all processes are shown). See below for an example.Does this mean I have maleware hidden in the background?
Also frequently TaskManager shows several applications not responding for several minutes: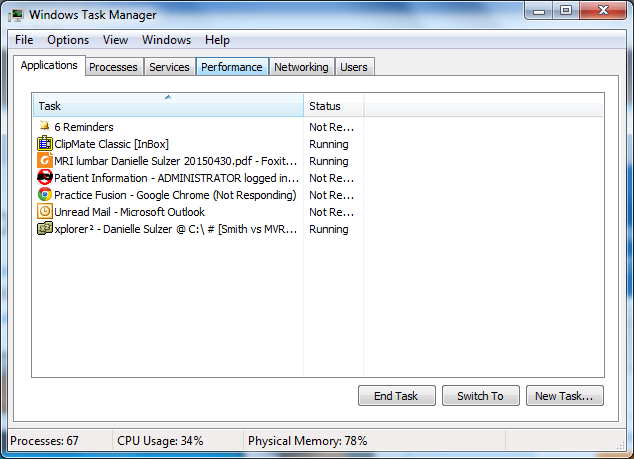 All 3 of the computers on my network are running slowly. When I disable the network adapter on this computer, they all speed up. When I disable the network adapter on the other 2, there is no change. Accessing from the internet is extremely slow using Chrome, IE or Firefox.
I have bought more memory for this computer. It currently has 3GB. When the new memory arrives, it will have 8GB. I am not sure if this will fix the problem because when I shut down apps to where 30-40% of the memory is used, the computer is still slow.
Any ideas? Thx.