Folks,
I am having a terrible time in build a form with a sub form. Below are my table relationships.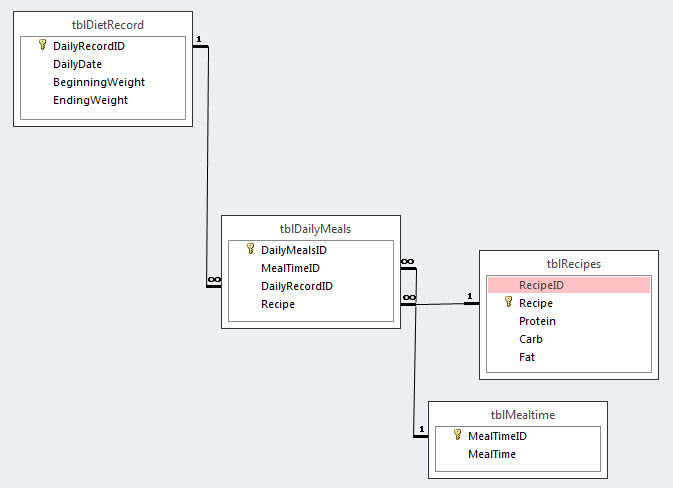 I have a form frmDailyMealRecord with the data coming from tblDietRecord. I am tracking my protein, carb and fat daily intake. There are five meal times in my table tblMealTime (Breakfast, Morning Snack, Lunch, Afternoon snack and Dinner).
Here is my objective. Each mealtime allows for a certain number of proteins, carbs and fats. There are recipes in my table tblRecipes where I put in the protein, carb and fat. At times I may need multiple recipes for a mealtime to get to the protein, carb and fat I'm allowed. I would connect the table tblDailyMeals to my table tblDietRecord using the DailyDate from the table tblDietRecord.
If I need to locate records in my table tblDietMeals I would use the DailyDate from my table tblDietRecord. There reason for that is I will be adding data to the table tblDailyMeals for a specific meal time on a specific date.
Below is what I am trying to do, for an example:

Please help me to complete this. Thanks