Good Morning,
The below code works and does what it is supposed to do.
Private Sub btnMUnitSelNext_Click(ByVal sender As System.Object, ByVal e As System.EventArgs) Handles btnMUnitSelNext.Click





        Try





            Dim dt As New DataTable()




            For Each col As DataGridViewColumn In dtgMResults.Columns




                dt.Columns.Add(col.HeaderText)





            Next





            dt.Rows.Add()





            For j As Int32 = 0 To Me.dtgMResults.ColumnCount() - 1




                dt(0)(j) = dtgMResults.SelectedRows(0).Cells(j).Value





            Next





            dt.TableName = "tblUnits"





            'Write datatable to XML file




            dt.WriteXml("C:\XMLFile.xml")





        Catch ex As Exception




            MessageBox.Show("Exception: " + ex.Message)




        End Try





        frmChqNumVerify.Show()





    End Sub



The problem however is that one of my columns (NextChqNum) in the datagridview contains leading zeros.
So when the DGV selection is written to the XML file, the zeros for the affected column are removed. Example: 030273 will be written to the xml as 30273.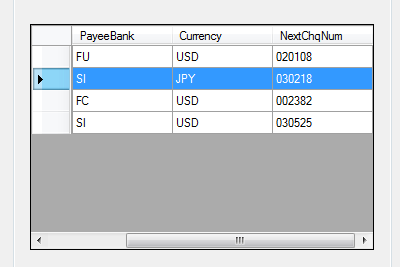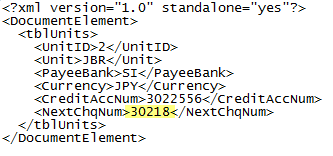 I understand that numbers cannot have a leading zero, so when writing to the XML file the zeros are being removed.
Can someone help me to modify my code where upon writing to the XML file the 'NextChqNum' numbers for the selection is converted to a string?
Kindly advise.
Regards,
N