Folks,
I am starting a database that will track my daily beginning and ending weight. In addition, there will be a sub form on each mealtime (Breakfast, Morning Snack, Lunch, Afternoon snack and Dinner. That part of the database IS not a part of this question.)
Here's my objective for now. On my form there is a date, beginning weight and ending weight. Below is the relations at this time.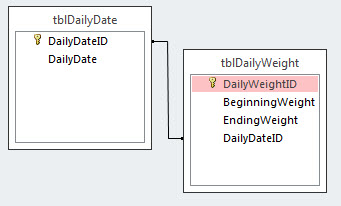 What I am wanting to do is when I enter in a daily date, the associated record in the weight table will appear. If there is no associated record yet, I would like to create one to enter my beginning weight for that date. At the end of the day, I would call up the weight table by date and enter my ending weight for that day.
In other words enter in a date and call up an associated record from the weight table that has beginning and ending weight. If there is not a record created in the daily weight table I need to enter one. At the ending of the day I recall the weight table to record the ending days weight.