Hello,
Well over a year ago, I upgraded each of my MS Office apps from 2010 to 2013 (32-bit) with the exception of Outlook & Visio which are still 2010.
A couple of weeks ago, I exported a report from QuickBooks Pro 2013 and for some reason, it opened in an Excel 2010 window — complete with my custom 2010 Quick Access Toolbar (QAT) settings. That surprised me because I have been using only Excel 2013 for a long time and thought Excel 2010 was no longer on my system — and indeed (as shown in the following screenshot), it does not appear in my [Start menu] > [All Programs] list: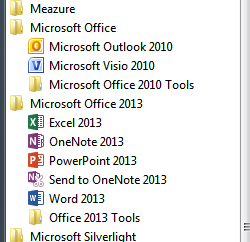 I had forgotten how much I like Excel 2010's higher-capacity QAT and ability to open multiple workbooks in a single instance. As a result, I have stopped using Excel 2013 and instead do everything with Excel 2010.
Now I am thinking I'd also like to go back to Word 2010 because
all
the fonts in Word 2013 are so fuzzy that I rarely ever use it. However, I don't know if Word 2010 is still on my system (as Excel 2010 apparently was) and even if it is (still on my system), I have no idea how to get to it.
I still have both sets (2010 & 2013) of Office installation DVD's but I am hesitant to try installing Word 2010 from the DVD because of the following statement from the
MS Office support site
:
"Install earlier versions of Office first. For example, install Office 2010 before installing Office 2013."
and I'd like to avoid having to uninstall and then reinstall Office 2013.
Thoughts or suggestions?
Thanks
PS OS is Windows 7 Ultimate (64-bit)