One of my client's new IT admin staff is not able to install the current Citrix Receiver.
He browses to any of the clients XenApp systems and is pointed at
http://www.citrix.com/go/receiver.html
to install Receiver. Downloads fine. Runs the install (he is a domain admin) and gets this error: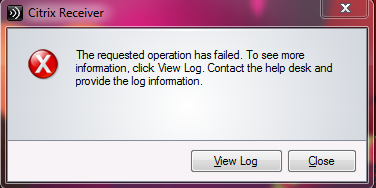 Have tried installing as himself, as domain admin account, other IT user - all get same.
Having Goggled the issue it seems the two log files (TrolleyExpress-20150610-1
44820.log & CtxInstall-RIInstaller-201
50610-1448
20.log) that may show what's causing this don't give me any clues. Both logs ttached.
TrolleyExpress-20150610-144820.log
CtxInstall-RIInstaller-20150610-144820.l
Any ideas?
thanks
Mark