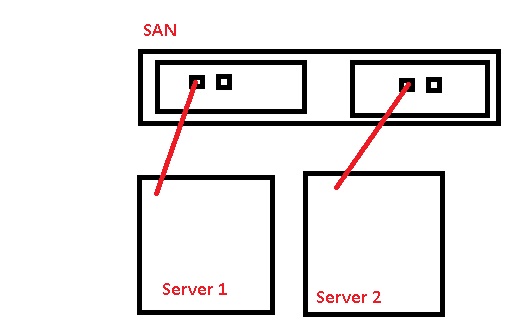 Hi Guys,
Okay so I've just got hold of a EMC AX4-5i (iSCSI) SAN and 2x DL360 G6 Servers for a lab I am trying to setup, I have been trying to build a Hyper-V Cluster using SAN Storage.
I have presented the storage to both of the servers:
1x 1Gb for Quorum
1x 500Gb for CSV
1x 600Gb for CSV
Both servers can see the drives but for some strange reason if I try and bring the drives online on server 1 all i get is "device not ready", if i go to server 2 i can bring the drives online and add into failover cluster manager fine, i deleted the virtual disks on the SAN and re-created all the connections and I got the same results but this time i could bring the drives online on server 2 but not 1!........but then I am presented with another problem where if I want to change the owner of the storage I get a "failed" within failover cluster manager and an error "Element not found".
There are two controllers in this SAN, I have patched in one iSCSI port on each controller to each server (see attached, sorry for the very poor graphic!).
I'm used to managing a Hyper-V Cluster but this is my first time in building one from top to bottom, I must be doing something wrong here!
Note: Both servers are running 2012 R2 Datacenter