Good Morning,
We've got a Windows Server 2012 R2 that we use for a client.
When we installed this server we had to transfer all their data from an ancient Mac server.
However we're finding files are duplicating themselves and when you try to delete them you get the following error: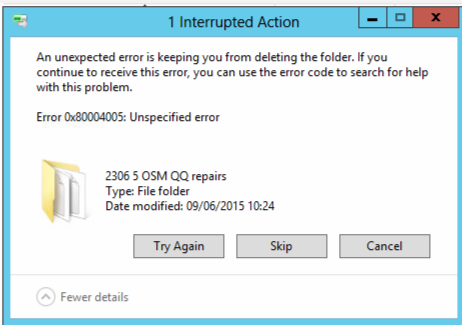 I've made sure I have the correct permissions on the folder and all the objects below it.
I also downloaded Unlocker but every time you try deleting an object with this but it states 'Drive access denied'.
I can rename the folder fine but if the users or myself can't delete objects on that drive it defeats the object.
I've also restarted the server in safe mode but I still can't delete it. Same error.
I've Googled but I'm struggling to find a definitive answer.
Kind regards,
Emily