Morning,
I am in the process of developing a Cheque Printing application in VB.Net and will be using an "OKI Microline 390 Turbo" as my printer on Windows 7 32-Bit. I've found that the "Generic/Text Driver" works best for my needs with this printer as sending the output in RAW mode works very well.
As this is the first time I play with dot matrix printers I'm having a hard time understanding the different emulations these printers use with "escape sequences". I've downloaded the manual for my ML 390 Turbo and see that I can switch between 3 different emulations (Epson LQ, IBM PPR and IBM AGM).
My questions are:
1. Which emulation (Epson LQ, IBM PPR and IBM AGM) should I use? My application prints information on a Cheque so will be ONLY text, I need to be able to control the font type and size, positions etc.
2. Will the suggested emulation in question 1 work with the "Generic/Text Driver" I have given my printer to use?
3. What sort of escape commands (ASCII, Decimal, Hex Decimal) should be used with the emulation? And why is there a difference to begin with, don't they all to the same thing?
4. Are you able to provide some written examples as to how to use the different types of escape sequences?
5. Having a look at the printers properties of the "Generic/Text Drive" I am seeing an area where I can input escape commands (screenshot below). I would prefer to issue the escape sequences from my code rather than through this window, is this possible? Or must I also input information via this window.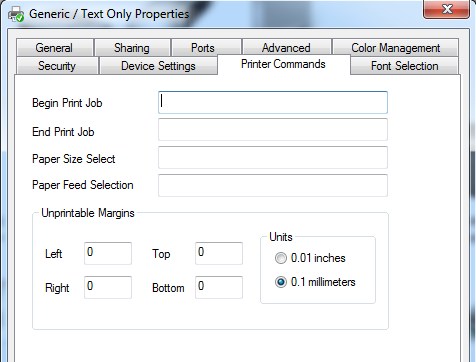 Kindly advise.
Regards,
N