Is it possible to remotely manage device manager on a Windows Server Standard 2012 Core?
I have a "Window Hyper-V Server 2012 R2" installed as Core only, and need to make some changes to the network drivers, however when I try and connect from my PC to the server via MMC using the snap-in 'Device Manager', Im getting:-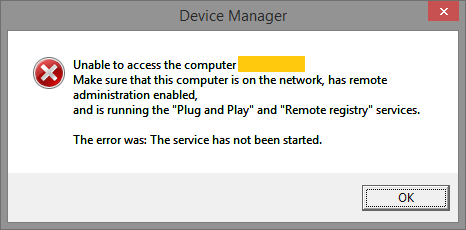 The firewall on the server is currently switched off (while I try and debug it), but I still don't seem to be able to connect.
According to the 'Services' snap-in inside MMC both 'Plug and Play' and 'Remote Registry' services are running, and Im assuming remote administration is working as I can load the services snap-in.
Any ideas what Im doing wrong?
Thank you