I have a strange problem with an exchange mailbox only affecting 1 user, from any location or version of Outlook. Shortly after starting outlook the user has a window with a progress bar pop-up that says "updating the server". I've attached a screenshot of the window.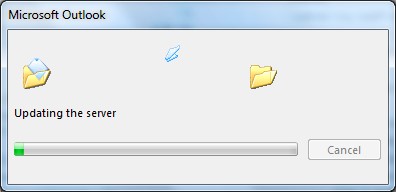 This issue does not affect any other mailboxes on the server and started after migrating the mailbox from Exchange 2007. Once the progress bar completes, after about 60 seconds, everything functions normally. They are currently in a coexistence environment with exchange 2007 running on server 2003 and exchange 2010 on Server 2008 r2. The mailbox in question resides on the Exchange 2010 server.
Has anybody seen this behaviour before? If so have you found a root cause or fix?
Thanks