I have a 4 port externally powered USB3 hub which works perfectly - with one exception.
When a device is connected to the hub and I select the 'Safely remove hardware and eject media' icon in the system tray the actual device is greyed out and cannot be selected, however, the hub itself also appears and can be selected. See screen capture: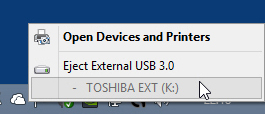 If I select to eject the hub then the hub becomes disabled (If I look at it in device manager it shows as awaiting removal), and ALL devices connect it to it are inaccessible. (unplugging it and reconnecting and or re-booting makes it accessible again).
Ideally I would like to disable the option to eject the hub and enable the ejecting of devices connected to it. Is this possible?
This is on a Windows 8.1 Pro system. All updates applies to to and including 20 June 2015.