Hi All
I have an SSRS 2012 column chart with a horizontal axis that displays scores 1 to 20, and a final row that is intended to show '20+' for all scores above 20.  
In T-SQL I have a Stored Procedure to pull this off, returning the set in the below image.  For the moment, the entire purpose of the 'label' column is to show a 20+ (green rectangle), as if I don't do this there are scores up to 500 and that really skews the graph and makes the 1-20 scores hard to read.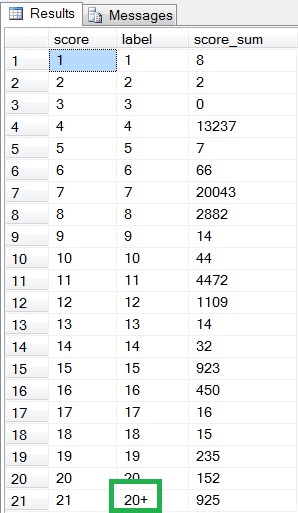 Question:
In SSRS how can I indicate that the series values / horizontal axis is one column (score, int), but have it display another (label, varchar(5) ?
If I use the score column it shows a 21 for my '20+', and if I use the label column it sorts the graph in varchar order (1, 10, 11, 12) and not numeric (1, 2, 3, 4..)

Thanks in advance.
Jim