I've been going over DAG setup for an Exchange 2010 and am a bit confused about how it works.
Looking at the "Database Availability Group Design Examples" at
https://technet.microsoft.com/en-us/library/dd979781(v=exchg.141).aspx
, I find the following two-member DAG to seem easiest and most applicable to my environment.
The diagram is shown as follows: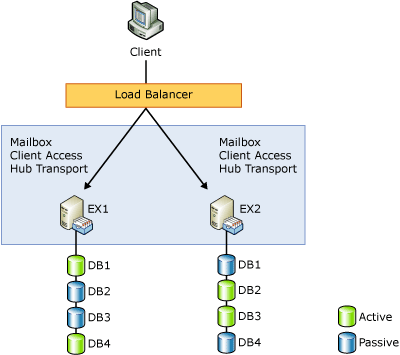 This raises a couple questions:
1. If databases are "Passive", what does that mean?
2. Since a network load balancer is used, what if somebody whos mailbox is on an "Active" database is directed by the Load Balancer to the other mailbox server where their database is "Passive".
3. What's the availability look like if both DAG members are running Client Access/Mailbox/HUB roles? Would it be wise to add a third member to the DAG and then give it only the Client Access or only Mailbox role and add a delayed replication, whereas the other 2 would be immediate replication?