Hi there
I have got 2 Windows 7 Computers one is desktop and the other one is a laptop both running Windows 7 Ultimate. Both of them got AVG Internet Security installed with firewall disabled on both of the machines. What I am trying to do is to establish a connection from my laptop to the desktop with no luck.
What I have done so far
1)Apply the remote assistance settings on the desktop in System-> Remote-> Remote Assistance-> Allow remote assistance to this computer. The funny thing in these settings is I do not have the remote desktop portion in the advanced system settings of remote i.e when I click advanced there is no Remote Desktop options for the desktop computer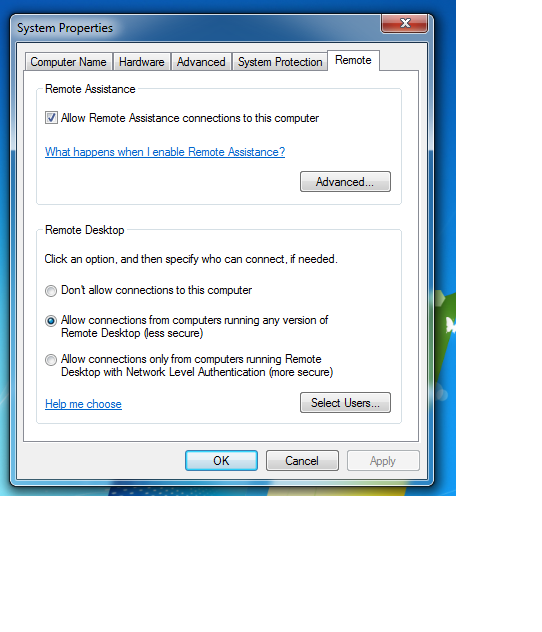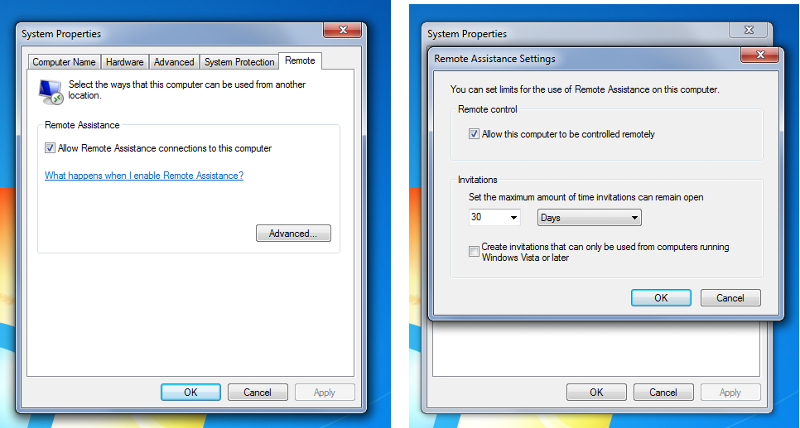 . Please refer to the pictures.
I have read at some tech forum that I need to install update KB2574819; which I did and also I need to install Windows6.1-KB2592687-x64 to get the remote desktop working but the I wan unable to install the 2nd update as the Desktop System says "The update has already been installed"
I re-iterate myself I want to establish a remote desktop connection from my laptop to my desktop, both locally and over the internet. I want to do it locally first. Both are on the same network connected via the router and they can browse the internet and I can even control both of them via teamviewer from each other.
In the 2nd step I would like to establish a Remote Desktop Connection to the desktop computer via the internet. And for that What I have done so far I have forwarded the required port 3389 in my router along with the corresponding IP of my desktop computer. I have also disabled the AVG Internet Security Firewall to have any success but there was no luck. Ideally your answer would also include the solution to get the Remote Desktop connection going without disabling the AVG Internet Security Firewall.
Any help would be great. I have checked the previous answers regarding the same issue but was not of much help. Thx