I have a user who couldn't connect to the server shares anymore. I'm able to ping the server and DNS configuration have not changed and are all configured properly.
In an attempt to fix this I removed the computer form the domain name and now when I try to rejoin I get "the network path was not found"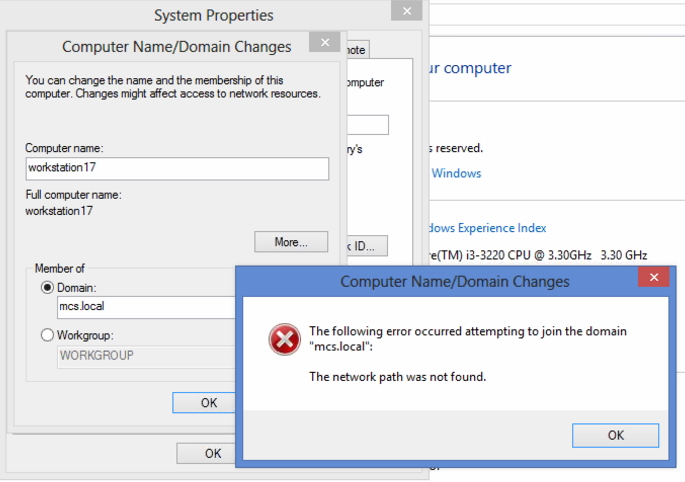 The DC server is a SBS 2007 and the workstation is a Windows 8 computer.
I can ping the server by name form the workstation and also the domain name and it resolve to the IP address of the server which is 192.168.16.2
Here is the ipconfig /all form the workstation
Ethernet adapter Ethernet:
Connection-specific DNS Suffix . : mcs.local
Description . . . . . . . . . . . : Inventec PCIe GBE Family Controller
Physical Address. . . . . . . . . : A4-1F-72-6E-1D-D4
DHCP Enabled. . . . . . . . . . . : Yes
Autoconfiguration Enabled . . . . : Yes
Link-local IPv6 Address . . . . . : fe80::6c7e:4454:5140:4e2f%
12(Preferr
ed)
IPv4 Address. . . . . . . . . . . : 192.168.16.21(Preferred)
Subnet Mask . . . . . . . . . . . : 255.255.255.0
Lease Obtained. . . . . . . . . . : July 22, 2015 10:59:10 AM
Lease Expires . . . . . . . . . . : July 30, 2015 10:59:09 AM
Default Gateway . . . . . . . . . : 192.168.16.1
DHCP Server . . . . . . . . . . . : 192.168.16.2
DHCPv6 IAID . . . . . . . . . . . : 262414194
DHCPv6 Client DUID. . . . . . . . : 00-01-00-01-18-E2-77-A7-A4
-1F-72-6E-
1D-D4
DNS Servers . . . . . . . . . . . : 192.168.16.2
NetBIOS over Tcpip. . . . . . . . : Disabled